Overview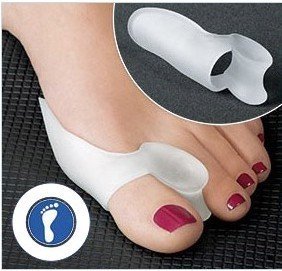 Hallux valgus may sound like a curse from Harry Potter, but it?s the medical term for a bunion, a bony growth where the big toe joins the foot. At best a bunion is an unsightly bump which can get a bit red and sore. If it gets big enough it limits the type of shoes you can wear, and sometimes a painful sac of fluid known as a bursa develops around it. But left untreated, a bunion really can become a curse if it starts to push the big toe towards the smaller ones, causing more problems such as hammer toes, or problems in the spine and legs.
Causes
The most important causative factor is poor fitting footwear. This accounts for an higher incidence among women than men. Family history of bunions. Abnormal foot function, excessive pronation. Poor foot mechanics, such as excessive pronation (rolling inwards of the foot), causes a medial force which exerts pressure and can lead to the formation of bunions. Rheumatoid or osteoarthritis. Genetic and neuromuscular diseases, which can result in a muscular imbalance such as Down's syndrome. If one leg is longer then the other, the longer leg is more inclined to develop a bunion. If the ligaments in the feet are very weak. In some cases, bunions can occur due to trauma or injury to the feet.
Symptoms
Symptoms include pain in and around the ball of the big toe, usually from the bone rubbing too much against the shoe. You may be unable to wear certain types of shoes due to the shape of the forefoot. The big toe appears to be bent inwards towards and in come cases over the inside toe.
Diagnosis
Although bunions are usually obvious from the pain and unusual shape of the toe, further investigation is often advisable. Your doctor will usually send you for X-rays to determine the extent of the deformity. Blood tests may be advised to see if some type of arthritis could be causing the pain. Based on this evaluation, your doctor can determine whether you need orthopaedic shoes, medication, surgery or other treatment.
Non Surgical Treatment
Non-surgical treatments for bunions may include wearing shoes that fit and that have adequate toe room. Stretching shoes professionally to make them larger. Putting bunion pads over the bunion to cushion the pain. Avoiding activities that cause pain, such as being on your feet for long periods of time. Taking over-the-counter pain relievers when necessary, such as acetaminophen or nonsteroidal anti-inflammatory drugs (NSAIDS) like ibuprofen. Using ice to provide relief from inflammation and pain. Using custom-made orthotic devices.
Surgical Treatment
When these above measures no longer help to relieve the pain in the big toe, surgery to correct the bunion deformity is considered. Numerous surgical procedures have been recommended for bunions. What is most critical is that the type of deformity is carefully evaluated, because one bunion surgery cannot be used for all types of bunions. If the big toe joint is rotated out of place, the joint must be rotated back in place for the procedure to work. Conversely, a bunion can occur with the big toe still ?in place.? If surgery is considered, the bunion must be corrected with the toe joint left in its current position. In other words, one type of bunion repair does not work for everyone. In all types of bunion repairs, ligaments and tendons (soft tissues) around the big toe joint are reconstructed, to allow the toe to be straightened. Most bunion procedures also require cutting the metatarsal bone, which is then fixed with metal screws to hold the bone in position until it heals. It usually takes 2 to 4 months to fully recover from bunion surgery, which is why it is always the last course of treatment.